EN–IT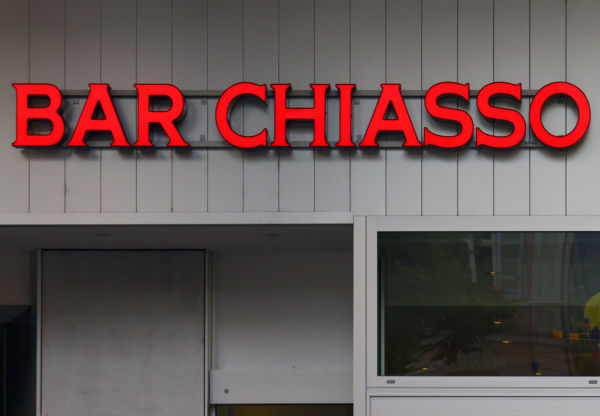 NYChiasso
Beat Streuli
The "metropolis" you do not expect
The urban gaze of photographer Beat Streuli is on display at the CONSARC/GALLERIA in Chiasso
Beat Streuli's exhibition at CONSARC/GALLERIA, Chiasso, has its origin when in 2014 the Biennale dell'Immagine invited him to produce a site-specific work for the 9th edition of this photography festival held in Southern Switzerland. Used to working in the world's metropolises, where his interventions are hosted in museums and visible on large urban architectures and public spaces, Chiasso in comparison might seem small and quiet. However, the artist was fascinated by the very special identity of this place with no tourist vocation and a large population of immigrants, by its changing fortunes, sometimes turbulent history, and the economic and urban development that could be perceived in this lively Swiss Italian border town. Seven years after the images have been taken, and more than a year after the start of a pandemic affecting humanity all over the world, it seems that the time is right to re-propose these shots and videos of Chiasso's inhabitants and street life. They will be installed on and next to a large scale wallpaper composed of photographs of passers-by from a very different urban environment, New York City's Manhattan. The universal stage of public space, and sometimes a certain light, connect these two worlds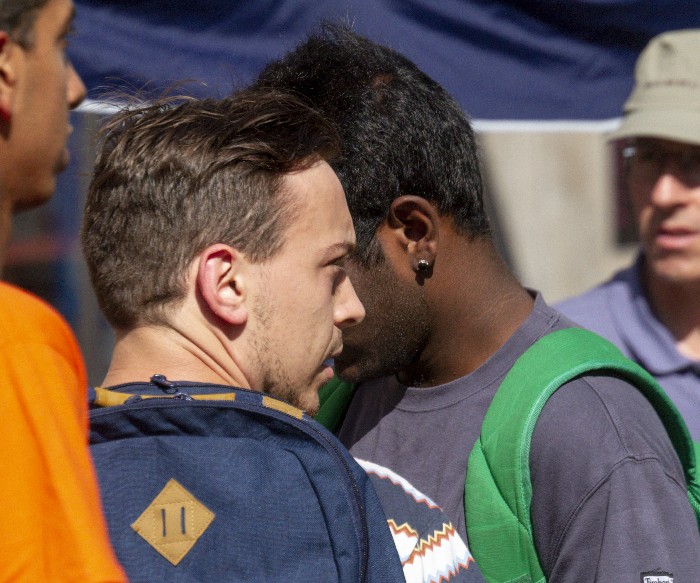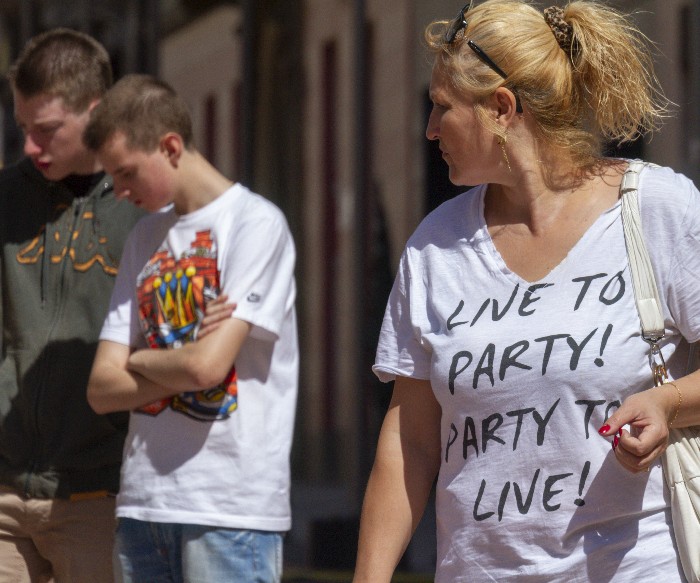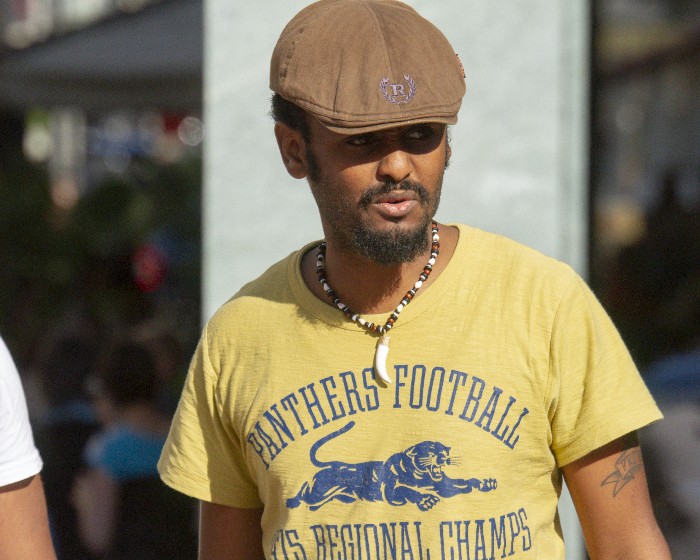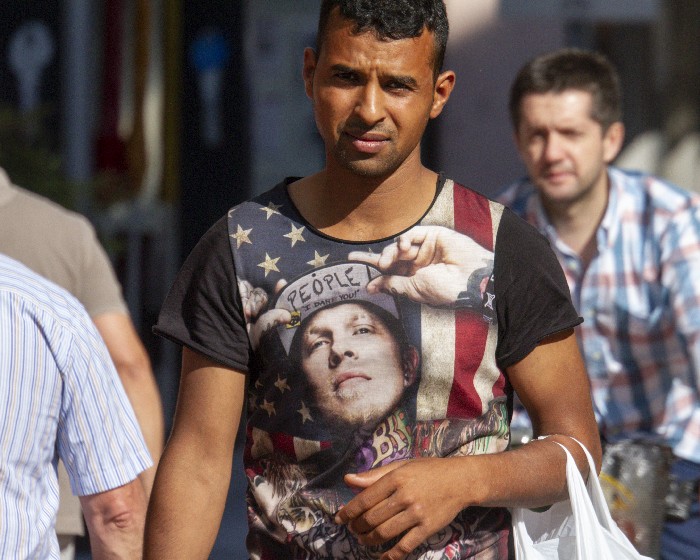 Chiasso Città di Confine Estate 2014 – 2014
Print on dibond 2mm cm 40×50 / 50×60
ed 1/3
Chiasso Città di confine Estate 2014, 2014, 16′
(extrait – full  video in the gallery)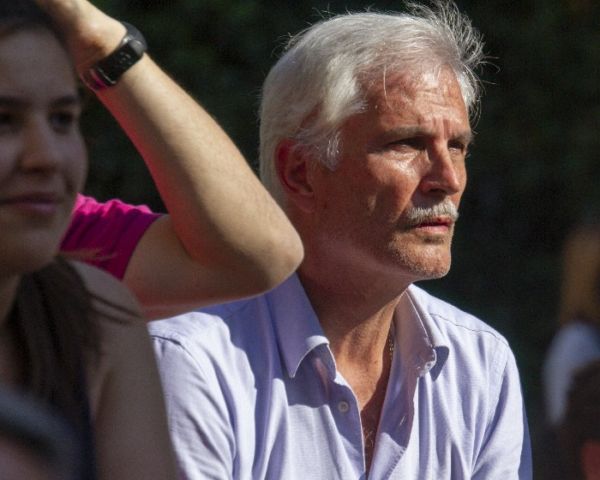 Chiasso Città di Confine Estate 2014 – 2014
Stampa su dibond 2mm cm 40×50 / 50×60
ed 1/3


Manhattan 17′, 2021 
Wallpaper cm 240 x 1230 (detail)
NYChiasso
Beat Streuli
For many years  Beat Streuli's work has been focussing on the bodies and faces of contemporary humanity, on us, who are the inhabitants of planet Earth and who move through the streets and spaces of the metropolises and the cities, large and small. A world globalized by the economy, the cities all somewhat similar, guided by the same consumption and life models, wherever we live. The photographs and videos he takes in the streets become projections, often of large dimensions and composed of moving figures, or they become monumental images placed on billboards, walls, museum windows, buildings, internal and external walls of universities, hospitals and public places, in close dialogue with the architectural structures. The images thus return to the same places in which the people were filmed or photographed, in a mirroring of real life and represented life, and become themselves part of the human habitat. Sometimes, however, they also end their journey in photographic prints that are installed on the walls of a room, offering themselves to close-up viewing.
The people, who are a mass of generic and anonymous beings but at the same time unique individuals, are simply photographed as they walk or stand in the streets. Without any rhetorical emphasis, without searching for a specific style, without chasing after special moments in life, without looking for events, but only by observing, according to an essential method that over time becomes stronger and more and more precise Beat Streuli builds a continuous and grandiose serial narrative of the passing by of human beings in the street, that absolute place which belongs to everyone and no one. His working method is potentially endless. Once he has photographed these figures, he looks at their images, chooses them, reassembles them and puts them together, like a composition, a linguistic structure he knows well, in highly articulated works that speak of the continuous movement of contemporary urban existence.
The succession of figures creates a sort of writing, almost a musical score that triggers photographic sequences, alternating shadows, lights, colors and projections that have the rhythm of the street itself. Each figure belongs to the masses but, as a simple fragment cut out of the crowd, is captured in its solitude. The faces and bodies appear to us to be clearly visible, unique, almost sculptures in the light of that moment, even if they are irremediably determined by the laws of fashion and consumption. They are figures in the public space, cells of the immense body of the city, but at the same time they are caught in a small moment of private life, in the intimacy of their thoughts. In this coincidence between public and private lies their truth and their contemporaneity.
Roberta Valtorta

Milano, april 27, 2021